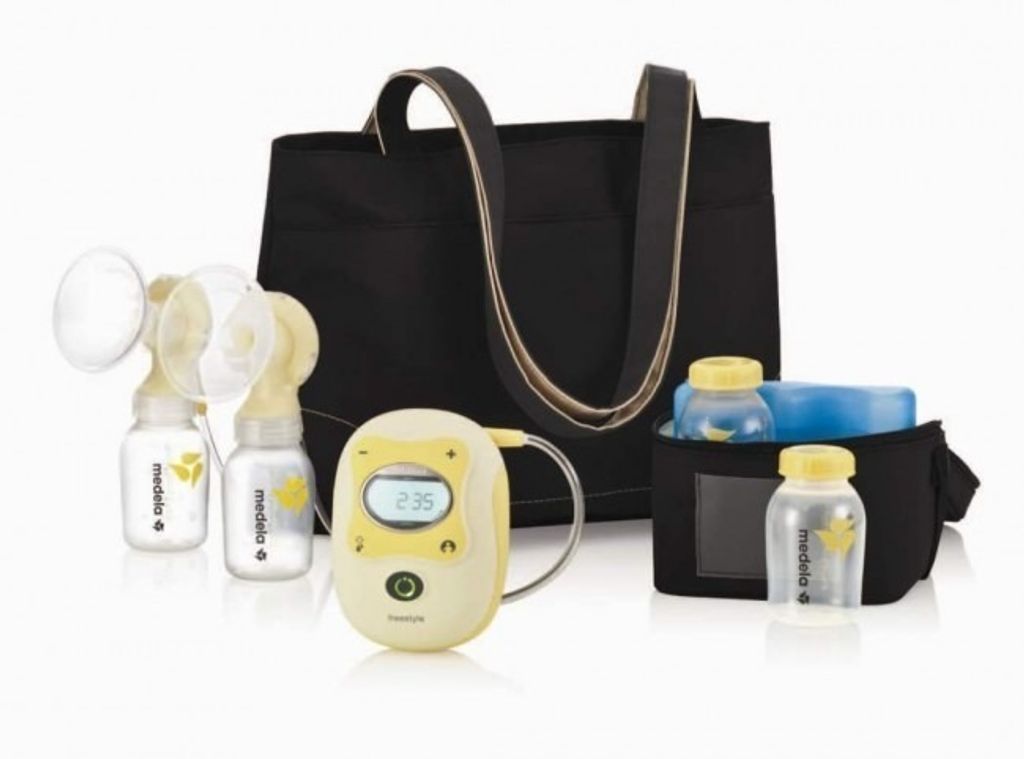 Medela Freestyle Double Electric Breastpump
all-in-one. innovative. time-saving.
One of the smallest double electric breastpumps in the world helps mothers save precious time and offers freedom of movement whilst pumping. Freestyle is ideal for daily and regular use.
Efficient: simultaneous expression in combination with the 2-Phase Expression Technology increases the amount of milk.
Innovative: small, lightweight and quiet, to make daily expression as comfortable and natural as possible.
Comfortable: individually adjustable vacuum settings, as well as memory function offers the highest degree of comfort.
Complete control: a display shows all the relevant information.
The best for your baby
Are you separated from your baby during the day? Are you unable to breastfeed your baby directly due to work commitments or because your baby has had to stay in hospital? The Freestyle Double Electric Breastpump helps you to pump breastmilk efficiently and comfortably - no matter where you are. Double pumping also saves you precious time and improves milk production.
Medela has been the first company worldwide to deeply research babies and their feeding behaviour
The 2-Phase Expression Technology is based on the natural sucking rhythm of the baby: Short, stimulating movements are followed by longer, more intensive ones, ensuring an optimal milkflow. It's faster let-down and maximum milkflow significantly reduces pumping time. So you can express more milk in less time - and more comfortable.

How does Freestyle differ from other electric breastpumps?
Freestyle has been developed especially for daily and regular use. The complete solution allows you to enjoy maximum freedom whilst pumping. Double pumping gives you extra time for yourself and baby.
The practical all-in-one-solution offers you everything you need for safe and comfortable pumping whilst on the go:
small and lightweight electric breastpump
rechargeable battery with a battery life of up to three hours
complete set for the storage, cooling and transport of breastmilk
Pumping is fast, efficient and comfortable thanks to the double pumping and 2-Phase Expression Technology of the Freestyle electric breastpump.
Mother - friendly operation
The double electric breastpump is easy to use. You can either change between the two phases yourself or pre-set the vacuum setting which is most comfortable for you with a simple touch of a button.
When you have chosen your preferred vacuum level and pumping pattern, the unique memory function can save your settings which can be easily recalled the next time you use the pump.
The Freestyle Electric Breastpump offers control and safety when pumping breastmilk: the large LCD display shows you the most important information:
The vacuum level
Duration of pumping
Battery status
The electric breastpump also features a backlight which is useful for pumping during the night.
Choose the right breastshield for you
Every mother needs her individual breastshield size. This is important to have an efficient pumping session without pain and to empty completely the breast in a shorter period of time. There for Medela offers 5 different sizes of its PersonalFit breastshields.
BPA-free parts and thorough cleaning - for the good of your baby
All products that come in contact with breastmilk are BPA-free and easy to clean, no matter whether you boil, disinfect or clean them using our microwave bags.
Customer comments
| Author/Date | Rating | Comment |
| --- | --- | --- |